Polam Nursery caters for children from the age of 12 months to 4 years. Our well-equipped and comfortable nursery is a fully integrated part of the school, giving your child the opportunity to benefit from an extensive range of facilities and specialist teaching.
In January 2021 our Nursery was awarded 'Millie's Mark', a Quality Mark for nurseries awarded by National Day Nurseries Association (NDNA) in association with Department for Education and Millie's Trust. Millie's Mark is the gold standard in paediatric first aid for childcare providers and Polam is currently the only childcare provider in Bedford with this endorsement.
Acorns & Catkins (1-2 years)
Our 2 baby rooms, offering just 6 places each, are highly sought after and places fill very quickly. Each room provides an exceptionally homely feel where children and parents alike feel supported and nurtured as they start their educational journey.  (Staff/Child ratio 1:3)
Saplings (2-3 years)
Our toddler room is a small unit offering a maximum of 20 places. The family feel continues in this fun-filled class and the children enjoy a varied curriculum, with an emphasis on learning through play. Children's interests are valued, explored and encouraged through a range of carefully planned activities. (Staff/Child ratio 1:4)
Oaks (3-4 years)
Our lively pre-school class provides the bridge between nursery and school, with an emphasis on independence and school readiness. Children take part in a slightly more structured day which includes adult led activities focusing on early maths and literacy. Continued assessment and monitoring of progress provides next steps for learning, meaning children leave Oaks ready for school and their onward learning journey. (Staff/Child ratio 1:8)
Curriculum & Specialist Teaching
Nursery children of all ages enjoy PE in our school Sports Hall and music with our school Music Teacher. From the age of 3 swimming becomes part of their weekly timetable in our own heated, indoor pool. Children begin to learn French when they join our pre-school class (Oaks). We also have visiting teachers join us weekly to teach Forest School, Disco Duck (1-2 years) and Tennis (3-4 years).
Home/School Communication
In all nursery classes we operate a Key Worker system, which ensures that each child receives personal attention at all times. For our younger children we utilise a Home/School Diary to keep parents informed of nappy changes, sleeps, food intake etc. You are also invited to attend Parents Evenings with your child's Key Worker twice a year.
We pride ourselves on a strong parent community within our nursery, and you are invited to join us for our Early Years Sing-along once a month and to activity mornings once a term.
Interactive Learning Diary (ILD)
Strong and effective dialogue between home and school is key to great outcomes for our children. We share your child's learning and experiences with you using an online programme, Interactive Learning Diary (ILD). This programme enables us to create a bespoke Learning Journal for each child which is shared online with you. We encourage parents to contribute to that Learning Journal by uploading videos, photos and notes directly from your computer or via an app on your mobile device.
Sessions and Fees
Nursery sessions are extremely flexible and can be tailored to your child's individual needs. Standard nursery hours are 8.30am-4.00pm. We can provide care for 48 weeks of the year, with wraparound care from 7.30am until 6pm (term-time) and 8.00am-6.00pm (during school holidays). We require all children to attend for a minimum of 4 sessions and we encourage children to start moving towards full time care by their final term in the nursery, to help prepare them for their transition to the school.
Payment via the Government Tax-free Child Care Account is accepted, and from the age of three children are eligible for the universal Early Years Funding scheme which provides funding for up to 15 hours of child care. For a full breakdown of our session times and costs, please go to the fees section.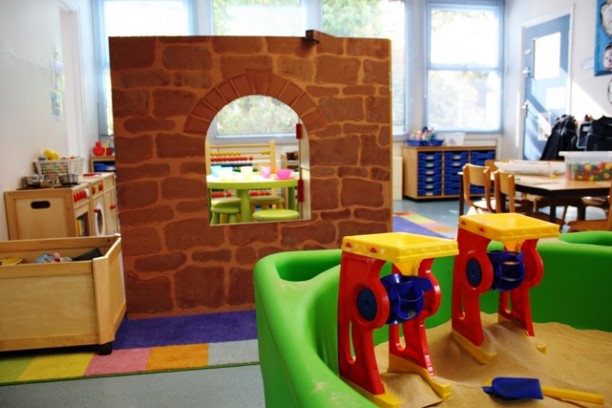 In March 2019, the Nursery was judged 'Outstanding' in all areas for the third inspection in a row. Only 15% of nurseries nationwide achieve outstanding in all aspects so we were delighted to be one of them.